Did you know that screwdriving is one of the most common assembly tasks?
Automating your screwdriving task has many benefits, including improved consistency, reduced injuries, and very high accuracy. However, finding the space and preventing jams can be challenging. Automated screwdriving involves robots performing screw picking and screwdriving operations. In fact, we have already accomplished that some time ago. Automating screwdriving processes significantly improved the product quality for our customers.
However, our development process doesn't end there. Did you know that the automated screwdriving robot can also be used as a mobile workstation?
To achieve even more consistent product quality, a new automated screw fastening robot was specifically designed by the automation team both at Kitron Lithuania and Kitron China. These robots are movable and universal workstations available for different product assemblies. It can use a different type of screw with high efficiency, such as a square groove or the inner triangle.
At Kitron China, a high-efficiency design ensured two assembly stations that keep the machine always running with high performance.
The flexibility of automation is our team's priority because of the high mix - low volume production challenges. That is why we are excited to announce that automation is now available not only for high-volume production but also for very low quantities.
The improvement in efficiency is significant. The automation team at Kitron Lithuania was able to improve screw assembly cycle time by up to 9 times!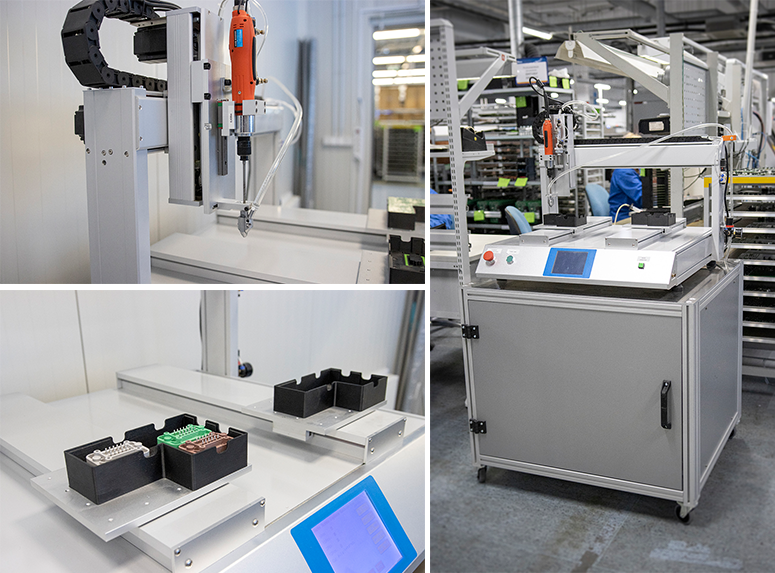 Ensuring mobility
The mobility of the robot is a significant part of this accomplishment. It helps integrate a new automated process into different factory areas and production flow. If the robot is not needed for some time, it can be moved away from the production floor to save space. There can be no doubt that optimized space utilization is one of the key goals of factory planning.
Moreover, an easy and fast robot setup can be done by trained operators. It just needs to plug in the electricity and air supply. The operator needs to change the fixtures for the following product type and start the correct program from the program list. It's just simple as that! 3D printed fixtures are designed to guide operators on how to insert the parts and ensure the positioning correctly.
Also, an automated screw vacuum feeder gives more stability to screw feeding and speed to the assembly process.
Summary
As one of Scandinavia's leading EMS suppliers, Kitron finds this type of automation and mobility solution incredibly suitable for the manufacturing process, even low-volume production. Our goal is to bring the highest value to our global customers. Certainly, we will continue to develop this type of technology for other electromechanical assembly products to offer even more and constantly challenge the best we can do.